Real Matchmaking Testimonials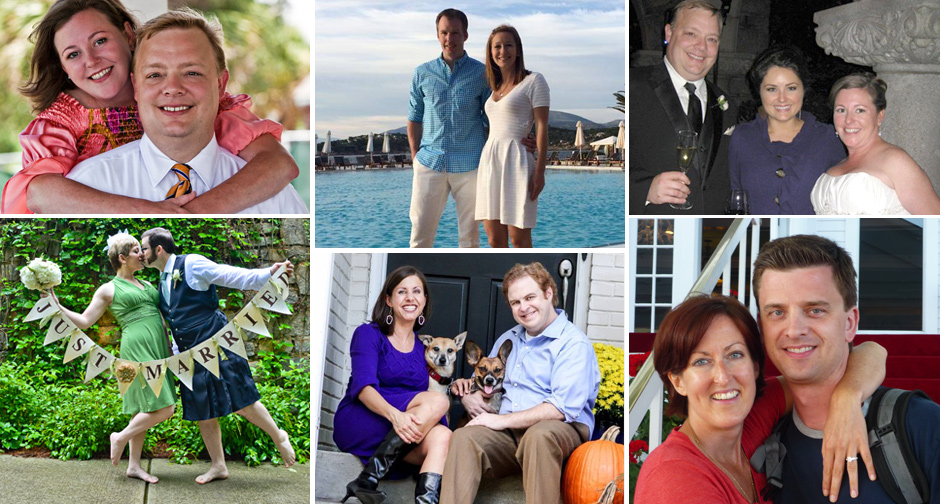 Jessica and Lance met through us on April 7,2015; their first date was at (the now-closed) Noche in Brookhaven. After their first date, Lance realized how confortable he was around Jessica and how much he liked her laugh. Jessica knew she enjoyed the conversation, but was curious if she could let her hair down around Lance… well fast forward to 2018, they got married!

Take note: Jessica was the second person Lance met through us, and Lance was the fourth person Jessica met through us!
Translation: They didn't give up!

We are so excited for these two, and for what the future holds for them!
James and Andrea met in 2013 on January 3rd at Murphy's in Virginia Highlands. James had great things to say about Andrea like, "I think we are very aligned. She's an interesting person. Scheduled a second date for next weekend." And Andrea had wonderful things to say about James like, "He was very respectable, intelligent, and handsome." Now they've been married since 2015 and have a boy named Pierce!
Jim and Lori first met December 4th, 2016 at The Cotton Calf, and learned right off the bat that they had a lot in common and had amazing conversation. Fast forward 2 years, and they tied the knot!

"Thank you for reaching out to us, I was going to drop you a note to let you know Lori and I are married!!!! As of just over a week ago. I could not be happier, I love Lori so much and so do all my kids and family! Thank you for everything you have done."
If you're looking for love and/or new single friends, definitely try 8at8 or their sister company 1on1 matchmaking. I met my husband through the service! Looked at their store front countless times as I sat at the traffic light at Roswell Rd and West Paces Ferry and finally picked up the phone to join. It was super easy and the best decision! Once I joined 8at8, Jennifer got me involved in some 1on1 dates and that's how I met my husband… less than 2 months later! Couldn't be more thankful to her and Sara Kathryn for a fantastic experience. Don't hesitate in making this investment in YOU and true love!
What a great team of people!  From the very first meeting with Sarah Kathryn I knew this was going to be a good experience.  They are a very light-hearted fun group of women but make not mistake they take their mission of matching you with the perfect match very seriously.  They take a sincere interest in you and what you are looking for and provide an exceptional service level.  From the initial interview, to setting up dinner reservations, to the follow up after each date the experience was fantastic.  I highly recommend partnering with One On One if you are single and want to meet quality matches.
After my divorce in 2015, I was new to the dating scene. The scene had changed quite a bit since prior to my marriage 20 years ago, and technology had obviously made a significant impact as well as new "norms" of how to effectively date.

I clearly wasn't prepared to tackle the "new" world of dating on my own. This was when I decided to engage the dream team of dating consultants at One On One Matchmaking. This team of professional women were immediately able to provide me constructive feedback regarding my clothing style, my work out routine (haha), and the skills required to pique the women's interest to get a second, third, and forth date.

Besides the services of One On One Matchmaking, this firm also runs the 8 at 8 dinner club as well as happy hour functions in and around the Atlanta metro area. This portfolio of services enable tailored packages based on the client's dating objectives and budget.

Whether or not your male or female, I would highly recommend the services of One On One Matchmaking. Most of my interaction was with Jennifer, and she is awesome to work with too!
Originally joined elite matchmakers Kelleher. After a month of not meeting any women of interest, I called Jennifer Miotke at One on One Matchmakers. I could tell an immediate connection and felt they would have my best interest and work hard for me finding a great girl. Soon after joining Jennifer recruited a girl whom I spoke to on Jdate but would not date me. After Jennifer vouched for me and talked me up, the girl decided to meet me and the rest as they say is history. If Jennifer didn't talk the way she did about me I would have never had the opportunity to win this girl over! Thank you Jennifer, Anna and Emily for believing in me. Don't waste your money on matchmakers who don't have feet on the ground and a brick storefront where girls can walk into to meet great guys like me…haha! They're like having cool sisters who have a real interest in fixing you up, and find a marriage partner for you. Great affordable way to meet higher eschalon people to date. If your busy and don't want to leave meeting someone great to chance…
I have worked with 1 on 1 Matchmaking through the Matchmakers Alliance. Sarah's team is professional and driven to find their clients love. If you're the type of person that just doesn't have time to go on bad dates or just unwilling or unable to navigate the online dating scene, 1 on 1 Matchmaking is for you. They have a dedicated date coordinator that helps services their clients from A to Z and attract of pool of members that are attractive, active, and fun! Ideal for those ready for LOVE!
1 on 1 Matchmaking is such a fun experience! I have tried online dating, and I have met men who didn't exactly say who they were. Since I have joined 1 on 1 the men have been smart, attractive, and honest. 1 on 1 is a totally different approach. The matchmakers listen to what you are looking for and schedule your date. The dates are always at one of the best local Atlanta restaurants, and I can honestly say every date I have had is a blast!

Sarah Kathryn, Lindsay, Kristen, and Margaret are fantastic! I highly recommend 1 on 1, and it's one of the best decisions I have ever made.
I had a great experience with 1 on 1 Matchmaking. Jennifer was fantastic. She helped me quickly identify the type of girl I was looking for and she took it from there. She set me up on great dates with girls that fit my type. It was a fun process and hassle free, which is key for me since I have a very busy life with work and friends. I'm now in a long term relationship with a great girl.

I would definitely recommend Jennifer and 1 on 1 if you are fed up with trying to find dates online, at bars, or are too busy for either of those. YOLO.