Need Cooler Online Dating Profile Pics?
Are you unsure how great your online dating pics of you are? Need new ones but don't know where to start? Grab a friend, mom, sister, cousin, co-worker- whatever and head to one or a few of these places for good backdrops!
Rooftops in Atlanta
Rooftops in Atlanta are a great spot for a good city view and even better lighting. Our favorite spots for pictures are: Gypsy Kitchen, St. Julep, New Realm Brewing, The rooftop at The Clermont Hotel, Ponce City Market (just be aware there is a cover charge to go to the rooftop).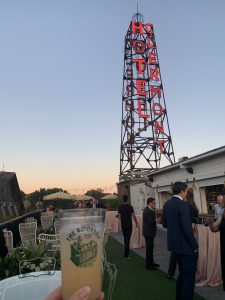 Indoor Backdrops for Good Photos:
The Porsche Experience is located near the airport and they have a museum! Think about posing by a retro Porsche! That could get a guy messaging you real quick. Plus, if you are a guy- it's not THAT awkward to snag a pic in front of a cool car! Another cool shot could be you playing bocce or ski ball at Ormsby's in West Midtown. The St. Regis in Atlanta is another great indoor spot with good lighting, tea time, a dark bar, and a patio. With a good flash, a great picture is possible.
Outdoor Backdrops for Good Photos:
When the weather is nice and the sun is shining- you really should head outdoors to get the best pictures. The lighting is important to making you look good. Grab a cocktail at the outdoor bar at Canoe. Have the river in the background, the huge trees, and the Adirondack chairs. If you park at Park Tavern in Midtown, you can get on a minute bike. Your friend can snap a shot of you riding and smiling. Bonus- if you're traveling have your buddy take a pic of you in front of cool spots!
Have a hobby? Get someone to capture you partaking in your favorite activity! Be that painting, woodworking, making craft cocktails or a beer kit, or heading to a winery, playing golf, creative writing, you with your plants, or even cooking or baking! The goal on online dating is to stand out, look different than other singles that you are competing with- so showing your hobby can make you look more interesting.